Nous en parlions hier sur notre page Facebook, l'excitation était à son comble lorsque celui que l'on surnomme « Big N » a annoncé qu'il présenterait la fameuse prochaine console portant jusque-là le nom de code NX. Chose promise, chose due : hier à 16h00 Nintendo nous présentait son tout nouveau bébé dont la sortie est prévue en mars prochain (sans date précise pour le moment) : la Nintendo Switch!
L'article suivant détaille donc ce que le trailer nous promet, les attentes sont grandes, mais rien n'est garanti avant la sortie effective.


Après les voitures hybrides, voici l'ère des consoles hybrides!
Yep… on ne rigole plus chez Nintendo! La caractéristique principale de la Switch sera d'être une console hybride. Pas compris? Bon. Une console de salon, mais également une console portable. Est-ce que ça va mieux? Je m'explique. Votre Nintendo Switch peut être placée dans la station d'accueil, vous pouvez alors jouer à vos jeux sur votre téléviseur comme le parfait petit gamer que vous êtes. Pas très intéressant? Alors attendez. Vous pouvez également la sortir de sa station! Elle passe alors en mode portable et votre manette peut se diviser en deux pour venir se placer des deux côtés d'un petite écran rappelant le GamePad de la Wii U. La Nintendo Switch se prend alors partout, comme une grosse DS quoi… mais ce n'est pas tout! On peut, du coup, poser la Nintendo Switch devant nous, comme une petite télévision, et jouer avec nos petits joysticks (les Joy-Con) dans les mains, ce qui rappelle cette fois-ci le combo Wiimote-Nunchuk de la Wii, soit pour les utiliser comme une manette soit comme deux! Console de type salon-portable-multijoueur donc, un joli foutoir! Un foutoir sur cartouche et non plus sur CD d'ailleurs. Je vous laisse visionner.
Mario 64, tiens toi bien.
Le succès commercial d'une console est en partie dû au premier line-up de jeux proposés. Le ou les jeux de lancement ont une importance absolument capitale, car c'est eux qui donneront le premier aperçu d'une console. On ne mentionne même plus The Legend of Zelda: Breath of the Wild, titre le plus attendu pour le lancement de cette console, mais le trailer nous en a montré plus. On a pu y voir notamment un nouveau jeu Mario, qui semble (pour le très peu qu'on en a vu) tenter de marcher dans les traces spirituelles d'anciens prédécesseurs : Super Mario 64 et Super Mario Sunshine. Si cette spéculation est avérée, certains fans qui attendent le retour de ce type de gameplay depuis bien longtemps seront absolument ravis. Mais que vois-je? Est-ce bien une image de Skyrim? Possible, on va vous dire pourquoi.
Ils ont ENFIN compris.
Le fait que Nintendo nous balance un tout nouveau concept avec la Nintendo Switch ne surprend personne, ils ne font finalement jamais rien comme les autres. La plus grosse surprise, c'est les nouveaux partenariats avec des éditeurs tiers qu'ils nous ont annoncé! EA, Ubisoft, Square Enix, Bandai Namco, From Software, Take Two, Capcom, Bethesda dont on parlait avant avec Skyrim ou encore Konami pour n'en citer que quelques uns! Les fans de Nintendo auront-ils enfin droit à leurs jeux de sport de qualité, à la série des Elder Scrolls, à Final Fantasy XV, aux jeux Metal Gear, bref, à tous ces jeux qu'ils enviaient aux autres joueurs!? Nintendo aurait-il réalisé l'amplitude de ses erreurs passées?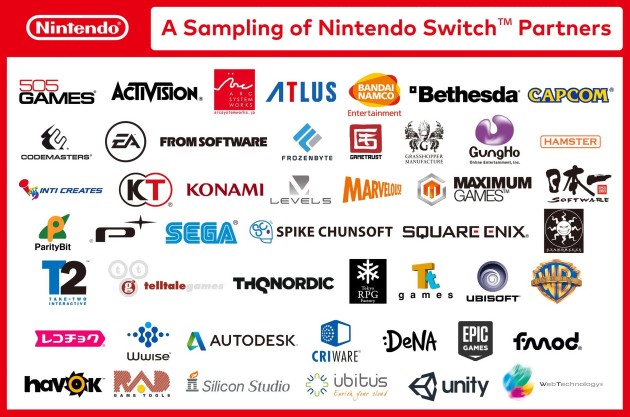 Mais bon…
Nintendo nous l'a dit, il n'y aura pas d'autres précisions concernant la Switch avant janvier au plus tôt! L'heure est donc à la patience et surtout à la prudence. La hype est gigantesque, Nintendo semble avoir écouté sa communauté de fans et se diriger vers quelque chose qui a beaucoup de potentiel, attention toutefois à ne pas trop se réjouir avant de goûter à la Switch, cela vous évitera le risque d'un goût amer.

Andreios