L'original Shovel Knight a fait l'objet de la toute première critique de jeu vidéo postée sur le site de Pixels. Nous voici, près de deux ans après, en face de la deuxième extension de ce jeu indépendant tant apprécié. Après une bonne réussite avec Shovel Knight : Plague of Shadows, Yacht Club Games décide de continuer à nous faire incarner les emblématiques ennemis de Shovel Knight, en nous donnant cette fois-ci un aperçu de l'histoire du sombre Specter Knight. 
Développeur : Yacht Club Games
Editeur : Yacht Club Games
Date de Sortie: 3 mars 2017
Console(s) : PC, Wii U, 3DS, PS3, PS4, PS Vita, Xbox One, Nintendo Switch
Genre : Plate-forme
L'odorat
Shovel Knight, l'original, est un jeu de plateforme aux graphismes 8-bit qui veut retransmettre avec une touche actuelle l'excitation et le dynamisme des jeux en scrolling horizontal de l'époque de la NES, de la SNES ou de la Megadrive. Specter of Torment n'est pas différent. Cette fois-ci, on incarne Specter Knight, l'un des boss du premier jeu. Il s'agit d'un genre de prélude qui raconte comment le chevalier fantôme en est venu à servir l'Enchanteresse et à l'aider à former l'Ordre des Sans Quartiers, qui deviendront plus tard les ennemis jurés du brave Shovel Knight. On se retrouve donc de l'autre côté du miroir, avec une histoire un peu plus sombre et étayée. C'est ainsi assez agréable de voir cet univers de base plutôt simple prendre un peu de profondeur. Certaines rencontres, combats inattendus, flashbacks et secrets seront à découvrir au fil du jeu.
A noter qu'il est difficile de définir Specter of Torment, tant il peut être considéré comme simple DLC malgré une atmosphère et un fil rouge clairement différents qui pourraient en faire un jeu à part entière, c'est donc également une question que je me poserai dans mon parcours de jeu.
Comme précédemment, on évolue dans des niveaux en scrolling horizontal et on récolte principalement deux choses en chemin avant d'affronter le boss du niveau : des diamants et des crânes écarlates. Les diamants serviront à acheter des tenues pour Specter Knight qui changeront ses capacités de base, alors que les crânes vous permettront d'acheter des reliques qui agissent comme objets actifs. Bien que variés et possédant des possibilités d'upgrades, je n'ai trouvé ces reliques utiles que sporadiquement, elles n'influencent pas suffisamment le gameplay pour être considérées comme vraiment utiles.
Le toucher
Specter of Torment met l'accent sur le mouvement et sur le style. Specter Knight possède deux capacités inédites à la série. Premièrement, il peut marcher quelques pas le long de certains murs ; ce qui ouvre un gameplay plus vertical. Deuxièmement, notre chevalier fantôme possède une attaque aérienne très particulière ; selon sa position par rapport à l'ennemi, une petite tape sur le bouton d'attaque le fera fendre l'air dans une direction diagonale déterminée (vers le haut si l'ennemi est au-dessus, vers le bas si il est en-dessous). Cette mécanique offre évidemment des possibilités nouvelles de gameplay et encourage l'acquisition de bons réflexes qui, après un ou deux niveaux, deviennent très rapidement familiers. Tout cela rend le jeu très rapide et nerveux, mais également très satisfaisant, les mouvements sont incroyablement bien fichus et optimisés pour avoir un aspect des plus badass. Les contrôles sont donc, évidemment, particulièrement bien étayés afin que ces mécaniques compliquées et demandant de réagir très vite ne permettent pas au joueur de se suicider bêtement. Rien n'est injuste, on n'a que ce qu'on mérite.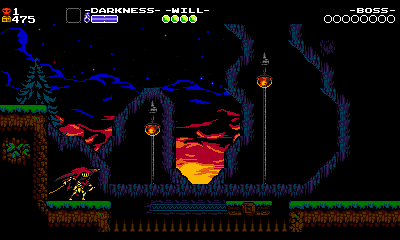 La vue
Restant sur ses bonnes bases, Specter of Torment offre un graphisme typique de Shovel Knight : des fonds colorés mais sobres qui permettent aux pixels flamboyants de briller au premier plan. Contrairement aux niveaux revisités de Plague of Shadows,  ceux-ci nous offrent de nouveaux fonds graphiques encore plus détaillés et travaillés, ce qui donne tout de même un certain sentiment d'innovation. Les intelligents indicateurs visuels permettent un gameplay des plus intuitifs malgré les mécaniques nouvelles et inconnues, c'est encore un point sur lequel la série ne semble pas faire de faux pas.
L'ouïe
Comme précédemment, la bande-son est également travaillée si précisément que c'en est fascinant. Ici, les musiques des aventures précédentes sont retravaillées pour donner une nouvelle ambiance aux niveaux traversés, non seulement par leur arrangement mais aussi par l'atmosphère qu'elles dégagent, ce qui suggère une période différente et un nouveau point de vue pour le joueur. Toujours cohérent, l'incroyable Jake Kauffman prouve encore une fois que personne ne lui arrive à la cheville actuellement pour la composition de musiques énergiques et stimulantes qui donnent une folle ampleur à des jeux frénétiques et excitants.
Quelques nouveaux morceaux font leur apparition, et — parmi eux — un excellent thème pour le château de l'Enchanteresse, contrastant l'atmosphère graphique et scénaristique sombre avec une ambiance sonore baroque impressionnante.
Le goût
Là où Shovel Knight nous a montré comment manipuler la nostalgie à bon escient, Specter of Torment nous montre comment étendre les capacités modernes de ce type de jeu et comment jouer avec l'intérêt grandissant de ces dernières années à ressortir le scrolling horizontal de sa tombe. Specter of Torment donne raison à tous ces développeurs qui, à force d'inspiration, cherchent à redonner à ce type de jeu sa gloire d'antan.
Avec des graphismes et une bande son impeccables, de nouvelles mécaniques efficaces et un univers qui se recycle en changeant complètement le level-design ainsi que les dynamiques des combats de boss pour que tout s'adapte aux capacités du nouveau héros de l'aventure, cette extension offre une expérience de jeu courte mais très prenante et immersive. De plus, le mode défi et le New Game + procurent une bonne rejouabilité pour ceux qui voudront aller plus loin dans la maîtrise du personnage ou tenter un peu de speedrun. Ceux qui collecteront tous les objets deviendront vite très forts, et un personnage craqué permet des parties très fun ! Le challenge est également présent mais reste juste : le jeu ne vous demandera jamais de récolter une deuxième fois un objet ou un trésor déjà acquis. En gros, on ne vous fera pas prendre de détours plus qu'il n'en sera nécessaire.
Dans une lignée qui prévois de s'étendre avec d'autres aventures mettant en scène d'autres des personnages récurrents de la série, Specter of Torment parvient à injecter juste ce qu'il faut de nouveauté pour être considéré comme un jeu en soi et pas simplement un remix de l'original comme l'était Plague of Shadows. Il peut d'ailleurs être acquis individuellement si l'on ne possède pas le pack Shovel Knight : Treasure Trove. Le charme indéniable et grotesque de l'épopée originale est toujours là, l'histoire prend de l'ampleur et les personnages sont petit à petit impliqués dans un tout qu'on se réjouit de découvrir. Dans tous les cas, pour une quinzaine de francs, il s'agit d'un must-have tout support de jeu confondu. Sans faute jusqu'ici, Yacht Club Games, félicitations !
Les pour et les contre
+ 

De nouvelles mécaniques très bien exécutées

– 

Les reliques auraient pu être mieux élaborées

+ 

Pas cher mon frère

– 

Un ou deux niveaux de plus n'auraient pas fait de mal

+ 

Prise d'ampleur pour l'univers de Shovel Knight et ses personnages

– 

Specter Knight devient facilement un peu OP à la fin si on récolte les objets méticuleusement

+ 

Excellente bande-son

+ 

Graphismes égaux à eux-même

 + 

Level-design simplement parfaits

 + 

Bonne rejouabilité

Enjoy! 
Andreios