Attrapez-les tous ! Combien d'entre nous, enfants des années 90 ou 2000, ont été bercés par cette phrase directe et accrocheuse. Après sept générations, plus de 600 épisodes de dessin animé, un nombre de peluches sensationnel et des montagnes de cartes à jouer, Game Freak décide d'envoyer la patate au panthéon de la nostalgie avec Pokémon Let's Go Pikachu et Let's Go Evoli. Remake de la très emblématique version jaune de la première génération, voilà un jeu qui cherche le compromis entre le passé et le futur… mais aurait-il délaissé le présent ?

Développeur : Game Freak
Editeurs : Nintendo, The Pokémon Company
Sortie : 16 novembre 2018
Console: Nintendo Switch
Genre : RPG
Fais-moi pleurer comme quand Papillusion est parti
Bon d'accord, j'exagère peut-être un peu. Mais il faut admettre que Pokémon Let's Go joue énormément sur le sentimental et en fait l'un de ses plus grands atouts. Pour ceux qui ont joué aux jeux de la première génération de Pokémon, c'est l'occasion de réaliser un rêve de gosse : voir ce que ça aurait donné en un peu plus réaliste. Beaucoup plus réaliste, en fait. Oui, ces petits bouts de pixel qui laissaient tout à l'imagination se voient soudain amenés à la haute définition ! Quel bonheur alors d'arpenter les terres de Kanto, de la forêt de Jade à Cramois'île en passant par les diverses routes, grottes, arènes, centrales électriques et j'en passe…! Tous les environnements ont été recréés, repensés et polis pour ressembler à l'image que l'on pouvait s'en faire étant gamin ! Et les PNJs, aussi génériques restent-ils, prennent aussi vie dans ce sens, pour donner un trait de plus au dessin nostalgique que l'on nous propose (et en plus, leurs dialogues sont quasiment identiques aux jeux d'il y a 20 ans).
Et alors quid des Pokémon ? Et bien j'ai le plaisir de vous annoncer qu'ils ne sont pas en reste, oh non ! Puisque nous les voyons maintenant dans leur environnement naturel (j'y reviendrai), l'effort a été fait pour nous les montrer à l'échelle de leurs descriptions du Pokédex. Ainsi, l'on croisera d'immenses Onyx dans les grottes, et de tout petits Aspicot dans les bois, en cohérence totale avec ce que la science des Pokémon nous a appris toutes ces années durant. Lors des combats et des captures, les animations sont fluides, travaillées, réfléchies pour que l'on puisse enfin voir de la véritable action. Magnifique ! Certains diront que ça aurait pu être mieux, plus beau, plus affiné, mais le gosse qui sommeille en moi en trépigne, littéralement. Et puis zut, on peut même monter sur certains Pokémon ! On peut les faire se promener avec nous ! ON PEUT CARESSER EVOLI ! (Mais ça c'est pour les gamins… hum…)
Côté musique, les oreilles sont plus que gâtées également. Chaque morceau a été adapté à une sortie HD, et voilà qui ne déçoit pas ! Je ne m'attendais pas à ce qu'ils y parviennent, mais les sentiments de l'époque reviennent notamment et surtout grâce aux très fortes ambiances sonores. Le thème de Lavanville, la musique du Conseil des Quatre… tout est là, tout est de retour pour jouer un très beau tour à votre ouïe.
Fini les infâmes cris de Nosferapti
Principal changement que ces jeux apportent à la saga Pokémon, le nouveau système de capture a ses bons et ses mauvais côtés. Fini les combats aléatoires, les Pokémon sont là, ils se baladent librement dans la nature, et c'est aux joueurs de décider s'ils souhaitent les capturer ou pas. Fini les combats avec les Pokémon sauvage tout court, d'ailleurs. Dans Pokémon Let's Go, le système de capture se rapproche désormais plutôt de celui de Pokémon GO. On ne combat plus, mais il faut réussir de beaux lancers, bien centrés et avec un bon timing et si possible avec une bonne Pokéball si l'on veut espérer capturer le Pokémon qui nous fait face. Plutôt facile sur le mode portable de la Switch, ce système montre clairement ses faiblesses sur le mode TV, avec une utilisation parfois bien aléatoire des détections de mouvement. On perdra quelques Pokéballs à secouer les joy-cons bêtement en direction de l'écran… je vous recommande donc sur le mode portable pour ces jeux. Selon le niveau et l'espèce du Pokémon, il sera plus dur à attraper. A vous donc de lui envoyer des baies, ou d'utiliser les Pokéballs les plus adaptées (ou alors la Masterball, de préférence sur un Chenipan niveau 3).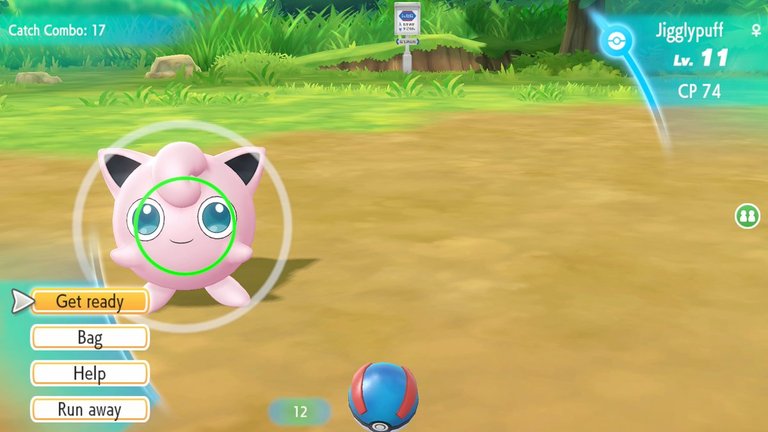 Certains trouvent que ce nouveau système arrache à Pokémon son essence, sa raison d'être, même ! Je ne serai pas si extrême, mais bien que je sois extrêmement satisfait de pouvoir me balader librement sans devoir fuir une bataille toutes les 20 secondes, il faut bien avouer que cette méthode devient lassante au bout d'un moment. Heureusement, les combats contre les dresseurs n'ont pas disparu, et deviennent alors moins répétitifs puisqu'on ne doit pas affronter des pelletées de Pokémon entre deux. Cependant, effectuer des captures sera nécessaire, notamment pour faire monter les niveaux de votre équipe, car les autres dresseurs ne vous feront pas de cadeau si vous êtes sous-entraîné.
Take a walk on the easy side
Sous-entraîné, ce sera pourtant difficile de l'être. En effet, avec la disparition des combats de Pokémon sauvage (à l'exception des légendaires), il fallait trouver un moyen de permettre aux joueurs d'évoluer rapidement. Résultat, le partage d'expérience est activé dès le départ. De plus, les captures de Pokémon, si elles sont bien gérées, peuvent rapporter des points d'expérience ahurissants. Le jeu encourage beaucoup les combos de capture, comme attraper plusieurs fois des Pokémon de la même espèce, car cela augmentera les stats de ceux que vous croiserez dans la nature, ainsi que leur chance d'être en forme shiny. Attraper 60 Racaillou n'étant pas une idée qui me réjouisse tant que ça, j'en suis resté aux Pokémon à stats plutôt basiques… mais n'ayez crainte ! Votre starter, que ce soit Evoli ou Pikachu, est une machine de guerre aux capacités exagérément boostée, que vous pourrez de surcroît améliorer avec des tonnes de bonbons spéciaux. Et si votre équipe est K.O., vous vous trimbalez maintenant le PC sur vous, donc aucune raison de paniquer.
Tous ces éléments, vous l'aurez compris, rendent le jeu plutôt facile d'accès et moins stratégique que les dernières entrées de la série. J'ai décidé pour ma part de me débarrasser de mon starter surpuissant, et d'ignorer le fait que la boîte PC était accessible en tout temps. Se restreindre pour la beauté du jeu sera nécessaire pour les fans les plus hardcore des jeux Pokémon. Et si vous voulez vraiment une croisière tranquille, optez pour le mode co-op, là c'est carrément impossible de perdre.
Let's Go to GO
Grosse innovation également, et comme son nom l'indique plus ou moins, le jeu peut-être connecté à l'application Pokémon GO. Pour ceux qui auront passé des heures à arpenter les rues à la recherche de Pokémon, c'est une victoire énorme. En effet, ceux-ci pourront transférer leurs Pokémon dans le jeu, et ainsi compléter le Pokédex en un rien de temps, et sans avoir besoin de connaître quelqu'un qui posséderait l'autre version du jeu. De plus, il est possible des les entreposer dans un magnifique parc et les voir gambader dans un triste enclos. Et où se trouve ce parc ? Il se trouve à Parmanie… à la place du safari. L'une des plus emblématiques zones des premières générations !
Cela peut paraître bizarre, mais je trouve que ce choix discutable illustre parfaitement le problème majeur de ce jeu : le décalage des époques. Pokémon Jaune c'est le passé, Pokémon GO c'est (en quelque sorte) une vision un peu futuriste de l'univers que l'on connaît. Parfait pour un petit voyage nostalgique, parfait également pour amener une nouvelle audience. Mais qu'en est-il du présent ? Des joueurs qui ont suivi chaque générations ? Ceux-ci seront charmés par l'esthétique et le cosmétique, mais peu convaincus par la réduction des mécanismes de jeu et de combat ainsi que par l'absence de substance, en tout particulier celle d'un post-game quasiment inexistant.
Au final, bien que se voulant innovant sur la forme, Pokémon Let's Go Pikachu et Let's Go Evoli ne constituent pas réellement une nouveauté. L'aspect nostalgique et sentimental est très appréciable, et finalement c'est un immense plaisir de se rapprocher un peu d'un jeu Pokémon en monde plus ouvert dont nous rêvons tous ! Il est clair que le rythme du jeu est plus soutenu, et bien moins longuet que celui des premières générations. Cependant, c'est presque comme si ces dix dernières années d'efforts s'étaient un peu effacées, alors que les deux dernières générations avaient apporté des nouveautés extrêmement bénéfiques à la série. C'est une belle expérience, et un jeu que j'ai beaucoup apprécié pour ce qu'il est : un hommage très réussi aux débuts de Pokémon, qui préfère ne rester que cela plutôt que d'ajouter réellement une pierre à l'édifice de la franchise.
| Pour | Contre |
| --- | --- |
| + Très beaux efforts de présentation | – Un peu trop facile au goût de certains. |
| + Bonne dynamique de jeu | – Peu stratégique |
| + Excellent pour une nouvelle audience |  – Mauvaise utilisation des joy-cons en mode TV |
| + C'est de la nostalgie bien amenée, qui n'en fait pas trop mais frappe exactement là où il faut |  – Absence de post-game intéressant |
| | – En décalage avec son temps |
Andreios