Imaginez un monde qui regrouperait tous les grands classiques du jeu vidéo : Metal Gear (1987), Pokémon (1996), Teenage Mutant Ninja Turtles (1989) ou encore Metal Slug (1996). Imaginez-vous en train de vous balader d'un univers à l'autre, le tout au rythme d'une bande-son épique… C'est précisément ce que propose Old School Musical ! Mais est-il digne de toutes les licences qu'il revisite ? Réponse plus bas !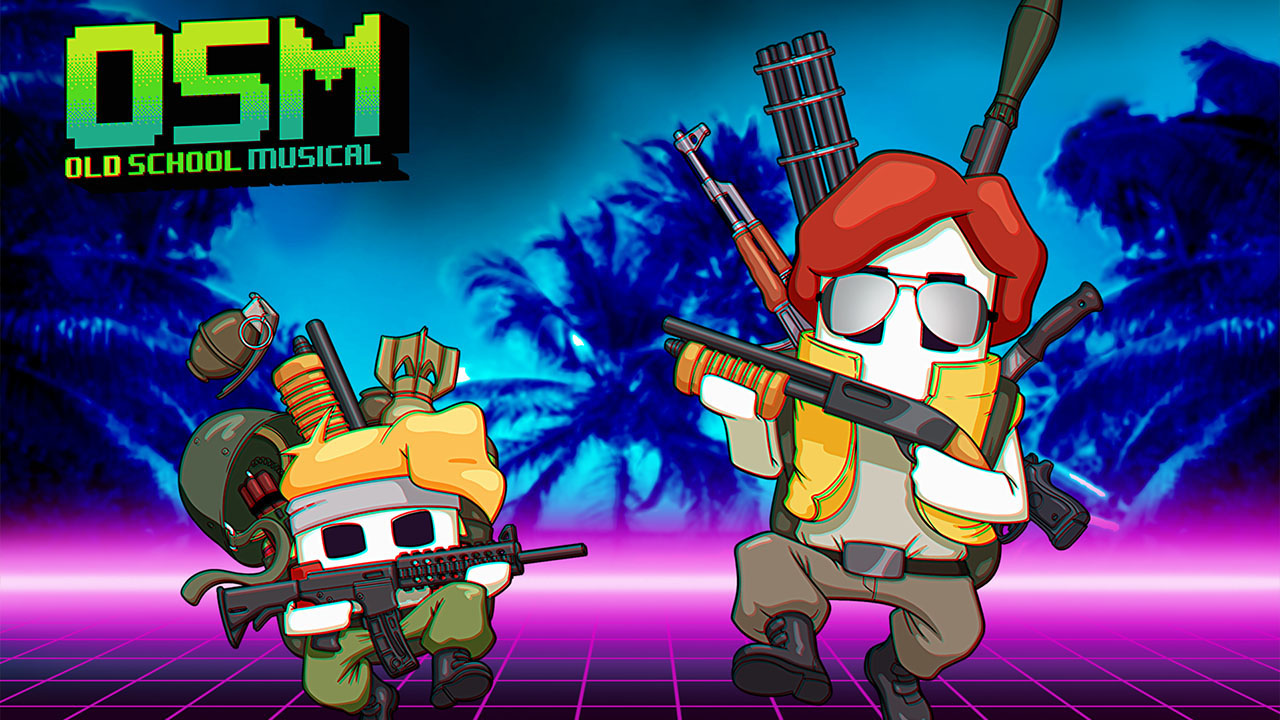 Développeur : La Moutarde
Éditeur : Playdius Entertainment
Date de sortie : 13 septembre 2018
Plateformes : PC et Nintendo Switch
Genre : Jeu de rythme 
Le monde des poules
Dans le monde merveilleux de Old School Musical (OSM pour faire court), Tib et Rob grandissent paisiblement aux côtés de leur mère tyrannique. Chaque jour, ils s'entraînent dur au dojo de leur douce maman : combats à mains nues jusqu'à l'évanouissement, des pompes à n'en plus finir, bref, un véritable entraînement de guerriers. Le tout est supervisé par leur matrone qui saura les remettre sur le droit chemin lorsqu'ils perdent le sens du rythme. Que ce soit avec un lave-vaisselle, un marteau ou une poule, peu importe ! Du moment qu'on peut les lancer sur ces enfants indisciplinés. Et s'ils se plaignent, c'est en exil dans la forêt qu'ils seront envoyés ! Ça forgera leur caractère ! Mais un jour, Tib et Rob se réveillent et découvrent une lettre : leur maman est partie et des glitchs s'emparent de leur univers ! Par chance, ils trouvent une télécommande qui les téléporte dans un autre monde… Ne serait-ce pas MegaMan ? Si le scénario de base du jeu ne vous a pas un tantinet intrigué, je ne peux plus rien pour vous !
Des poules 8-bits
Niveau graphismes, c'est la fête : des sprites 2D absolument fabuleux sont au rendez-vous ! Ce jeu est un hommage au retro gaming : chaque univers de jeu dans lequel nos héros se rendent est refait fidèlement ! Et pas seulement les vieux jeux : beaucoup de références sont plus récentes, comme Metal Gear Solid V ou The Last of Us. Mais ce qui est vraiment génial, c'est que plein de choses se passent à l'écran. Tib et Rob s'infiltrent dans une base tout droit sortie de Metal Gear, combattent Andross de Star Fox, explorent une ville fantôme digne de The Last of Us avant d'être attaqués par les Head Crabs de Half Life avant de tout faire péter dans une explosion digne de Metal Slug. Bref, vous l'aurez compris, ce jeu est un concentré de références vidéoludiques. Évidemment, tout est en graphismes pixelisé, ce qui renforce le charme global du jeu. Une vraie perle visuelle…
Des poules musicales ?
Mais est-ce aussi une perle auditive ? Réponse courte : carrément ! Réponse longue : mais puisque je vous le dis ! Avec des artistes comme Dubmood, Zabutom, Hello World, Yponeko et Le Plancton c'est la fête assurée ! D'ailleurs une partie de la bande-originale porte le nom de « Chicken Party Mix », comme quoi, on reste dans le thème. Je vous ai dit qu'ils aiment bien les poulets ? Bah, passons. Maestro ! Musique !

Poulet, poulet, piou piou piou

Qu'est-ce qu'on y fait dans ce jeu au fait ? Bonne question ! Le soft est un jeu de rythme très simple sur son principe : on a un cercle au centre de l'écran et des notes qui arrivent d'en haut, d'en bas, de gauche et de droite. Il faut savoir que chaque direction correspond aux boutons A, B, X et Y de la manette. Il suffit donc d'appuyer sur le bon bouton quand les notes arrivent au centre ! Rien de plus facile, non ? Pour finir, il y a les parties que l'on joue avec les bumpers. En gros, il y a deux rectangles en haut de l'écran et des notes qui arrivent vers eux depuis le bas ; un peu comme les notes de Dance Dance Revolution ou de Guitar Hero à l'envers. Il faudra alors être prêt à changer de style de jeu en cours de partie. Et ce qui est cool, c'est que les actions de Tib et Rob sont directement influencées par la réussite ou non du joueur ! Ratez trop souvent et vous les mettrez dans des situations difficiles, voire les mènerez à une mort certaine… Mais ne stressez pas, il y a pas moins de trois niveaux de difficulté ! Si la mère de nos héros devait vous donner un conseil, ce devrait probablement ressembler à ça: « si la tâche vous semble impossible, vous pouvez toujours décider d'être un lâche ».
Le jeu possède aussi un new game + : Chicken Republic : The Untold Story of Old School Musical. Dans l'aventure de base, on doit combattre les poulets à la recherche de Klin, un petit clin d'œil à The Legend of Zelda. Mais tout n'est pas raconté ! En effet, Tib et Rob ont dû venir à bout de nombreux poulets magiciens ! Ces gallinacés maléfiques modifient le jeu : ils font tout aller plus vite, ils troublent notre vision, ils éteignent la lumière, bref, ils nous cassent sévère les ******… Hem, je m'emporte. Je disais donc : ce new game + offre 50 niveaux sacrément corsés, ce qui prolonge grandement la durée de vie et la rejouabilité du jeu.  À ce sujet : il y a également moyen de rejouer n'importe quelle musique ! En effet, il y a un mode de jeu qui est dédié au scoring ; de quoi passer de nombreuses heures à atteindre le score parfait sur vos musiques favorites.
Kot kot kot ?
Old School Musical est de loin mon plus gros coup de cœur de cette année. Après l'avoir rapidement testé à la Gamescom, j'étais persuadé que ce jeu allait être génial. À juste titre donc ! On sent tout l'amour que les développeurs ont voulu mettre dans le soft : tout est affiné jusqu'à la perfection. L'humour est bien dosé, la difficulté est adaptée pour tous les niveaux, le jeu est magnifique, la musique est absolument fantastique, le gameplay est fluide et je pourrais continuer comme ça pendant des heures : achetez-le et jouez-y, c'est un ordre de Maman ! Plus sérieusement, le jeu est excellent, je ne peux pas assez le recommander.
| Pour | Contre |
| --- | --- |
| + De magnifiques graphismes pixelisés | – Les poulets magiques |
| + Une bande-son en chiptune absolument géniale | |
| + Un gameplay simple et efficace | |
| + Prise en main hyper rapide | |
| + Un bouillon de culture vidéoludique ! | |
| + Les poulets | |
DigitalDW