Après cette deuxième année consécutive à la Gamescom, je peux au moins affirmer une chose : le monde du jeu vidéo est toujours autant plein de vie et de bonnes idées. Je vais aborder ce résumé de façon non linéaire, abordant les sujets qui m'ont plu dans un premier temps, puis ceux qui m'ont moins plu. Commençons sans plus tarder ! 
Déjà, l'expérience presse était rudement sympathique : avec toujours les mêmes avantage – accès anticipé à la convention et accès à l'espace business – je me sentais plus que motivé pour découvrir ce que l'industrie vidéoludique avait à proposer. Mon premier souvenir marquant de cette édition était la présentation de Death Stranding. Si on enlève le fait que c'était, grosso modo, un énième teaser révélant un petit peu plus l'univers, le simple fait qu'Hideo Kojima en personne soit venu dire quelques mots avant le début a fait toute la différence. Nous souhaitant un bon visionnage et espérant sincèrement que ça nous plaise, Kojima a assisté à la diffusion avec l'audience avant de partir en catimini à la dernière seconde pour éviter de se faire harceler par les journalistes. Bref, un souvenir autant rigolo que marquant, et surtout un événement qui m'a renforcé dans ma certitude que je voulais absolument tester le jeu. Malheureusement, les premier hands-on n'ont eu lieu qu'au Tokyo Game Show – auquel, vous l'aurez deviné, nous ne sommes pas allés – mais maintenant qu'il est sorti, je peux juste vous dire que je suis totalement convaincu. Test à venir !
Un autre excellent souvenir, aussi surprenant que cela puisse paraître, a été le test du remaster de Bob l'Éponge : Bataille pour Bikini Bottom – Rehydrated. En effet, de la même manière que Spyro : the Reignited Trilogy (on notera d'ailleurs le « reignited » pour l'un et « rehydrated » pour l'autre), j'ai été agréablement surpris de voir qu'il y avait toujours des développeurs motivés à réaliser des jeux de plateforme 3D colorés. Des mêmes éditeurs (THQ Nordic), j'ai aussi bien apprécié Desperados III, qui promet d'être une excellente suite pour la saga. Jeu de stratégie en temps réel mélangeant cowboys et humour, il se démarque par son style tout bonnement sublime ainsi que par son gameplay très fluide. Même si je n'ai pas joué aux précédents opus, j'avoue que celui-ci a su piquer ma curiosité.
Mon passage chez Microids pour Blacksad : Under the Skin a été comme une réunion entre potes qui ne se sont pas vus depuis longtemps. La fort sympathique femme au guichet m'ayant reconnu, nous avons immédiatement eu un rendez-vous pour tester le jeu. Cette année, donc, ce fut un hands-on et non pas un hands-off. Et, ma foi, je dois admettre que même si le jeu s'avère être un petit peu différent de mes attentes, j'ai beaucoup apprécié. Le gameplay est lent, ce qui permet d'installer l'ambiance film noir de façon très efficace. L'histoire est intéressante, les personnages ont grave la classe et les graphismes sont franchement beaux, que demander de plus ? L'intrigue promet de valoir la peine et j'ai hâte de mettre ma main sur le jeu fini pour la suivre jusqu'au bout.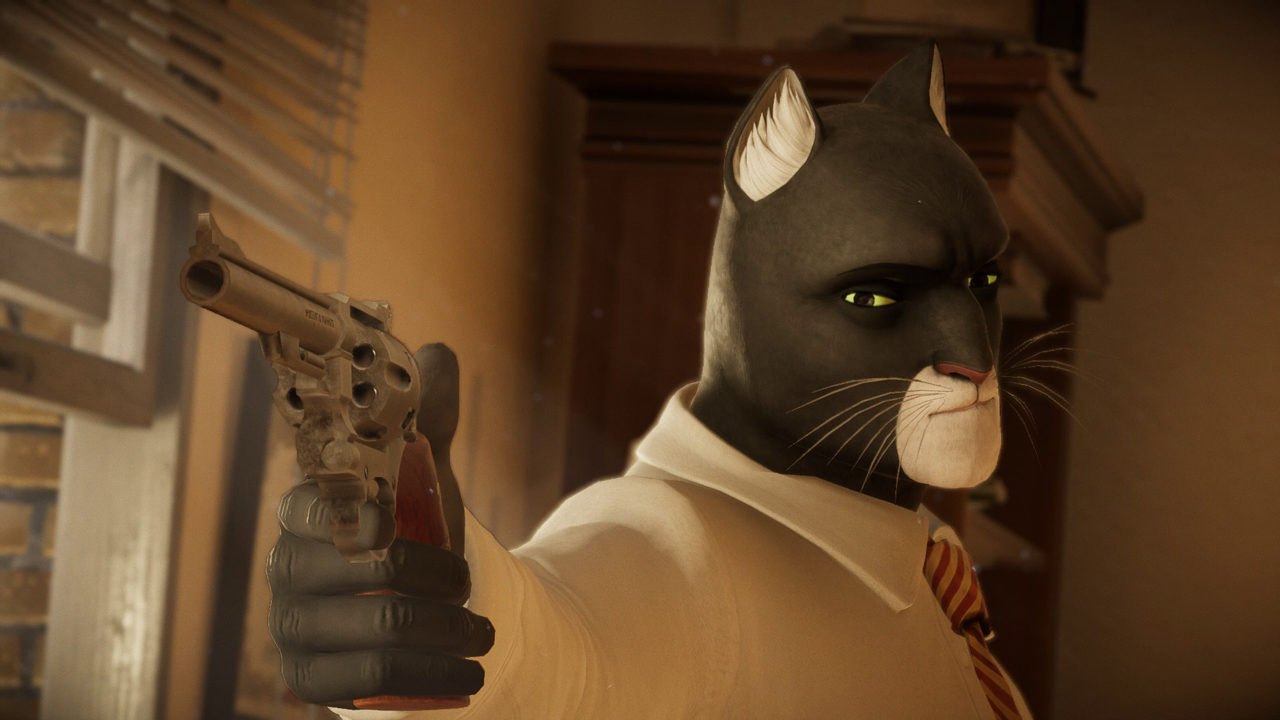 Du côté toujours francophone de chez Devolver Digital, j'ai pu tester trois jeux qui ont honnêtement l'air plutôt chouettes : Fall Guys: Ultimate Knockout, Heave Ho et Carrion. Les deux premiers sont orientés fun : Fall Guys est un jeu qui s'inspire de jeux télévisés style Interville, Total Wipeout ou encore Takeshi's Challenge. On y incarne un petit personnage rectangulaire et on doit gagner différents mini-jeux pour être déclaré vainqueur. Un petit côté « battle royale » donc, même si, pour ce genre de jeu, le terme n'est pas forcément adapté ; le jeu promet d'être très fun (jusqu'à 100 joueurs par partie) et très compétitif donc tenez-vous prêts ! Heave Ho, sorti depuis est disponible en test sur le site, est un jeu de plateforme minimaliste où on doit se balancer de plateforme en plateforme pour atteindre la fin du niveau. Simple et efficace, le jeu était marrant à tester à 4 joueurs. Je recommande ! Enfin, Carrion, est le jeu qui sort du lot. Très glauque, on y incarne une créature faite de chaire qui se balade dans un laboratoire grâce à ses tentacules. Le but ? S'échapper du labo en massacrant tout sur notre passage. Facile, non ? Le sound design était incroyable – les bruits de la créature qui transforme un corps en bouillie sont particulièrement bien faits et horribles – et la musique était angoissante à souhait. Une expérience qui vaudra la peine d'être vécue lorsque le jeu sortira !
Je voudrais finir mes temps forts par deux jeux. Le premier, Haven, raconte l'histoire d'un couple qui est échoué sur une planète. Tout se passe bien jusqu'à ce q'il y ait un tremblement de terre qui les force à quitter leur nid douillet. Relation sincère, exploration et combats mélangeant tour-par-tour et temps réel seront au rendez-vous. Un jeu à ne surtout pas manquer si vous êtes fans de visual novels et de RPGs. Enfin, Sayonara Wild Hearts, une espèce de jeu de rythme psychédélique aux couleurs bleues, roses et anthracites, propose de joueur un personnage qui voyage à toute vitesse dans des mondes aussi étranges que fascinants. Rappelant une version plus nerveuse des niveaux musicaux dans Rayman 3, le jeu m'a séduit par sa bande originale et pas son design très atypique. Encore un jeu à mettre sur vos radars.
Côté négatif à présent ! Il y a deux éléments qui m'ont un peu déçu. Le premier concerne la convention elle-même. L'espace publique était plein de stands, mais moins fournis en jeux à tester par rapport à l'année passée (ou du moins, c'était l'impression qui s'en dégageait). C'était dommage, car j'avais le sentiment d'en avoir assez vite fait le tour !
La deuxième déception concerne un jeu. Cyberpunk 2077, fortement anticipé, ne m'a pas donné plus envie que ça. Pour faire simple, j'ai trouvé le jeu « vide », dans le sens où les décors ne me paraissaient pas immenses. Au contraire, la plupart des endroits visibles dans le jeu étaient exigus et assez froids. Et la démo présentée ne montrait finalement pas un jeu qui semblait beaucoup sortir des sentiers battus : FPS, un peu d'infiltration, des principes de hacking rarement innovants, bref. Je ne veux pas passer pour le type qui rage sur les trucs qui sont populaires, mais j'avoue que la Gamescom m'a assez refroidit sur ce jeu. Dommage ! D'autant qu'à l'inverse,  WatchDogs: Legion m'a plutôt bien tenté…
Et ceci conclu ma rétrospective ! J'espère qu'elle vous a plu et que vous apprécierez les avis de mes collègues. Je ressors de la Gamescom avec des étoiles plein les yeux, certaines plus brillantes que d'autres, et j'espère que l'expérience sera autant fun pour les prochaines rédactrices et les prochains rédacteurs que Pixels qui auront l'occasion d'y aller. Le monde vidéoludique est plein de promesses, espérons qu'il les tiendra. En attendant, je vous dis « à la prochaine » !
DigitalDW