Sortis entre 1998 et 2000 sur PlayStation, les premiers jeux de la saga Spyro furent un succès retentissant. Les graphismes colorés et le gameplay, assez fluide pour l'époque, ont séduit les plus comme les moins jeunes. A titre personnel, je n'ai pas joué à toute la trilogie originale. Cependant, il y a bien longtemps, quand j'étais encore un enfant, j'ai passé beaucoup de temps, avec mon frère, sur Spyro 2: Gateway to Glimmer (ou Spyro 2: Ripto's Rage en français, bizarre, vous en conviendrez). De ce fait, j'étais plus qu'heureux de tester Spyro: Reignited Trilogy à la Gamescom 2018 et de redécouvrir des mondes qui m'étaient familiers, mais en même temps si lointains. Ainsi, j'ai décidé de me l'acheter… plusieurs mois après sa sortie ! Eh oui, les études ça prend du temps. 
Développeur: Toys for Bob
Plateformes: PS4 et XBox One (et plus récemment PC et Switch)
Date de sortie:13 novembre 2018
Genres: plateformes, action, aventure
Sparx et Spyro sont sur un bateau…
… et Gnasty Gnorc transforme tous les dragons en pierre ! Bon, en vrai on est pas sur un bateau, mais passons, il faut sauver les dragons ! On est immédiatement projeté dans le monde coloré de Spyro sans énormément d'indications, si ce n'est qu'on peut cracher du feu. Fort bien ! Il est donc temps de partir à l'aventure: il existe de nombreux portails qui nous mènerons vers différents mondes, et le moins qu'on puisse dire, c'est que ça en jette. Les mondes regorgent de vie, les ennemis (et les PNJs) se fondent parfaitement bien dans leur environnement et les collectibles sont cachés un peu partout. Bref, on est de bel est bien de retour dans le(s) monde(s) merveilleux de Spyro. Et avec un lifting au niveau des graphismes, du son et du gameplay qui rend les mondes encore plus agréables que sur les versions originales. Et c'est génial ! On sent une grande bienveillance de la part des développeurs: le jeu a été fait par passion (et aussi pour le fric, évidemment, puisqu'il y a un véritable marché de la nostalgie) et que chaque détail a été (re)pensé et amélioré. Bref, une première impression très positive !
Va, cours, saute, vole, brûle et nous sauve !
Niveau gameplay, il n'y a pas grand chose à lui reprocher. En effet, c'est comme les anciens… mais en mieux. La grosse différence résidant dans l'ajout de la caméra, qui manquait cruellement dans les originaux. Pour décrire tout ça rapidement, Spyro peut: marcher, courir, sauter, planer, voler, nager, cracher du feu, faire du skateboard (oui, vraiment) et se transformer à l'aide de différents pouvoirs. Et c'est avec cet arsenal de mouvements, qui ne changeront pas beaucoup d'un jeu à l'autre, que Spyro va sauver les dragons (Spyro the Dragon), les bébés dragons (Spyro 3: Year of the Dragon) et les habitants d'une contrée lointaine dans laquelle il est arrivé par hasard en voulant aller à la plage (Spyro 2: Ripto's Rage – ce sont des choses qui arrivent), le tout en collectionnant des gemmes pour… Bah, pour les amasser quoi. Pardon, pour finir le jeu à 120%… Non, 100%… Heu… 117% ? Bref, tout en amassant des gemmes pour remplir nos poches de dragon. C'est une recette très simple, mais qui marche très bien ! Et elle avait tout intérêt à marcher, puisque le public cible est assez jeune ; si les jeux étaient compliqués à prendre en main, je doute que je serais en train de parler de la version remastered en ce moment même !
Des paysages à couper le souffle
Côté graphismes, le jeu est juste superbe. En effet, le lifting graphique est plus qu'apprécié : tout est plus détaillé, les personnages sont enfin ronds quand ils doivent l'être, et Hunter est enfin cool (enfin, plus ou moins) ! Ajoutez à ces détails des couleurs saturées dignes d'un dessin d'enfant, et vous aurez des paysages lumineux, chaleureux et juste splendides ! Peut-être que cette version remastered permettra de redéfinir le personnage qui avait disparu du paysage culturel avec les Skylanders. Espérons aussi que ce genre de jeu – i.e. simple, joli et coloré – ait un regain de popularité. En effet, ce genre d'univers manque cruellement à l'industrie vidéoludique en dehors de Nintendo. Enfin, ce n'est que mon moi nostalgique qui parle. Le soft est magnifique et je vous encourage à y jeter un œil.
Maestro, musique !
Et quelle musique ! Très rétro, tout en étant 100% remasterisée. En effet, toutes les chansons du jeu ont été refaites pour l'occasion, ce qui nous donne un grand total de 4 heures et 3 minutes de soundtrack… Rien que ça ! De la musique survitaminée des zones de courses, aux musiques tranquilles, en passant par la musique magistrale, mais toujours très rythmée, du menu, ce ne sont pas les styles qui manquent. Il y en a pour tous les goûts ! Et le fait que toutes ce musiques soient, pour ainsi dire, neuves, témoigne, à mon avis, d'un véritable amour pour la franchise, et c'est tant mieux ! Je ne peux que vous inviter à l'écouter.
L'année du dragon ?
J'ai été très agréablement surpris par ce soft. En effet, moi qui m'attendais à un remake vite fait mal fait, je me suis au contraire retrouvé devant un jeu qui m'a frappé droit au cœur. Certes, la nostalgie y est pour beaucoup, et je ne prétend pas être objectif, mais je pense que l'on peut dire sans trop d'hésitation que ce jeu est une réussite sans failles. Jamais je ne me suis ennuyé – et je les ai fait les trois à la suite – et jamais je ne les ai trouvé ni trop compliqués, ni trop simples, même si certains collectibles sont extrêmement bien cachés, voire difficiles à atteindre. J'ai adoré le fait de pouvoir se balader dans les mondes de Spyro 2 que j'ai déjà tant parcouru sur PlayStation, bref, j'ai adoré ce jeu. Et je souhaite juste vous insuffler l'envie de lui donner sa chance qu'il mérite amplement. Jouez-y !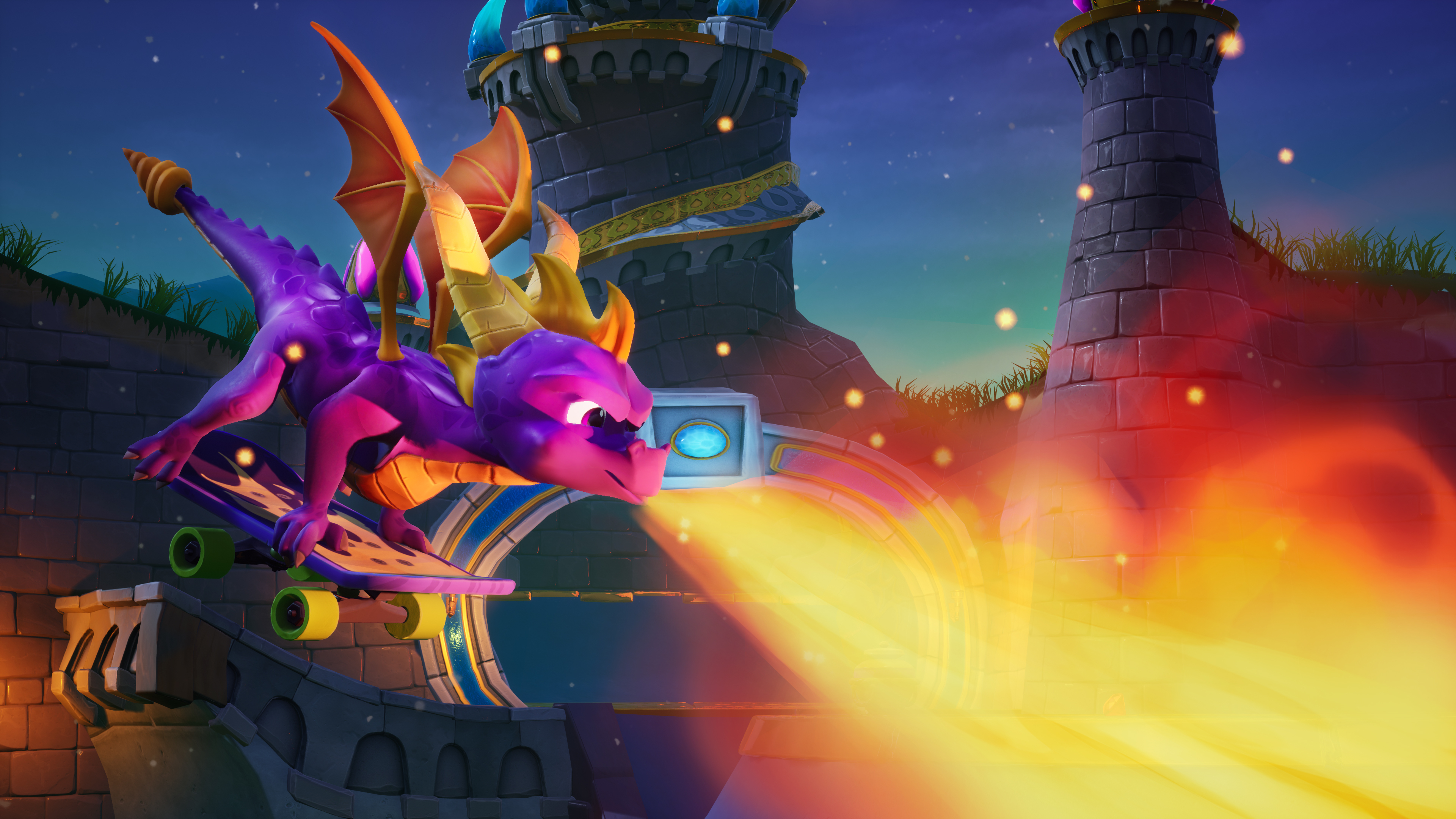 Pours et contres
| Pour | Contre |
| --- | --- |
| + De magnifiques graphismes | – Peut être répétitif si on a perdu son âme d'enfant ! |
| + Le gameplay simple et efficace | |
| + La bande-son absolument massive | |
| + La nostalgie pour les anciens platformers 3D | |